Meaningful Business (MB:) What are the biggest challenges right now in accurate measurement and reporting of impact?
Agnieszka Gajewska (AG:) The big challenge at the moment is knowing what to measure. The disruption we've lived through recently, coupled with the new drive towards building back better, means organisations are resetting their strategies and, in some occasions, even rethinking the impact they want to achieve. Measurement only makes sense in a context where you know what outcomes you are looking for, so flux in strategy creates work resetting measurement approaches. Making sure measurement aligns with strategy is crucial if we want to deliver sustained outcomes.
Moving towards some of the key technical challenges in accurate measurement and reporting on impact I'd call out the lack of data standardisation:
Lack of standardisation of metrics and frameworks – For example, we see this in the environmental, social, and governance (ESG) space where reporting standards, ratings and risk assessment metrics were developed in silos and are based on different criteria set out by multiple standard-setting bodies. "Lack of reporting standards" was cited as a top barrier to ESG effectiveness by executives in a recent PwC survey. The legislative frameworks in the developed economies will have a significant impact on standardisation. If the US, the EU, the UK, Japan and others all set different legislative requirements, that will have an impact on manufacturing and financial services companies, and have a ripple effect on standardisation and measurement everywhere.
Difficulties in attributing impact back to the investment made: This is often related to an important point – impact can take years to realise! You will need to commit resources to long-term measurement of impact across the value chain and reimagine reporting to use metrics that will capture the imagination of stakeholders and get you the buy-in you need. We can learn this from organisations that had done an excellent job measuring long-term impact and publishing data to drive evidence-led policy making (for example, DFID, the UK's Department for International Development or The World Bank).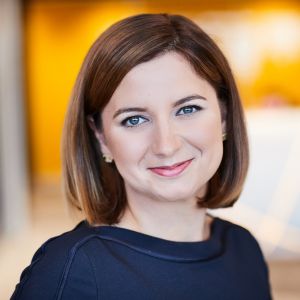 Agnieszka Gajewska, Partner, CEE Leader Public Sector & Infrastructure, PwC
MB: How should organisations choose which metrics to measure in the first place?
AG: It is important to use standardised metrics where available to align with international standards and reduce the data collection burden – but as someone who works with the private and public sector, I see plenty of room for more cross-sector collaboration and learning around which metrics to use. More forums like Meaningful Business can organically lead to more consensus on the topic. There is tremendous momentum towards more rounded reporting of societal impacts and non-financial information.
As I mentioned earlier, your impact measurement should be driven by your strategy and purpose. You set your goals against what you want to achieve and what is important for your stakeholders. You then follow through with long term evidence gathering and learning. You won't always get it right in the first instance but that's OK – you're not alone! Your ecosystem is evolving too and working together can lead to innovative collaborations born of the need to improve processes and outputs.
Below I list a few impact indicators that are widely recognised and could be helpful to those exploring which metrics to use.
Joint Impact Indicators – this is a common set of metrics (a subset of IRIS+ and HIPSO, referenced below) aimed at standardising metrics collection across gender, jobs, and climate.
Other sources can include:
Global Reporting Initiative (GRI) which is an international organisation that helps businesses and other organisations take responsibility for their impacts. Standards were produced to provide an international, standardised language that corporations could use to report on their business sustainability efforts.
IRIS+ which is the generally accepted system for impact investors to measure, manage, and optimise their impact.
The World Economic Forum's Stakeholder Capitalism metrics.
Harmonised Indicators for Private Sector Operations (HIPSO).
The 2x challenge (on gender) which calls for the G7 Development Finance Institutions (DFIs) propose a bold commitment to inspire other DFIs to take the 2X Challenge: Financing for Women and invest in the world's women.
MB: With many frameworks out there, which frameworks and tools would you recommend which offer a more accurate assessment of impact?
AG: This will largely depend on what you are looking to measure as different frameworks may be more suitable for different initiatives or business models but there are some general principles you can apply.
Keeping data at the centre of your impact reporting and linking your strategy to effective stakeholder communications will help narrow the gap between your impact initiatives and your clients' expectations; develop a clear point of view on what to report, define key metrics, document data and reporting processes, and use technology solutions to enable internal controls and efficient reporting. Apply the same rigour to non-financial metrics that you do for financial reporting. Finally, tell your story! Proactively communicate your goals and outcomes to your stakeholders and celebrate wins. This will help you secure long-term support and build trust.
At PwC we developed Total Impact Measurement and Management (TIMM) and Social Value creation methodologies, which cover environmental, social, economic and tax impact. It provides a more complete assessment of how value is generated (or potentially destroyed) in both the short and long term, helping decision makers to consider the net impact of their actions, beyond financial results. Some of our clients used it to reinvent their strategies.
MB: What can start-ups, SMEs and charities with limited resources do to provide accurate and thorough measurement of their social impact?
AG: I would say the landscape varies here. Some SMEs indeed struggle with lack of resources but there are also examples of SMEs who are true pioneers in how they measure and communicate their impact. Technology can also give a real advantage here and keep costs down.
For Charities and NGOs, measuring social impact has been critical for years and some are well versed in impact measurement. We can learn from them! Of course, where possible, we recommend using standardised approaches to enable comparisons and minimise time developing new approaches.
The "Impact Assessment for Charities" guide can be a useful tool. This guide covers four stages, from understanding the language used to measure impact and mapping a project's impact pathway, to the steps to converting outcomes into social return on investment (SROI) and the ways you might use and share your results.
MB: How can organisations be better incentivised to measure social and environmental impact?
AG: Organisations are incentivised to measure social and environmental impact by their stakeholders – clients, investors, employees and where relevant donors/funders. These stakeholders often look at organisations' ESG stewardship when making their business or engagement decisions. This requires comparable approaches to enable informed decision-making.
We expect more stakeholder scrutiny around impact measurement in the coming years. We have seen the private sector taking this seriously which is great. In some countries public sector procurement is also starting to include metrics relating social and economic value in formal tenders alongside commercial and technical scoring.
MB: How close are we to a universally standardised yardstick to measure social and environmental impact
AG: Some progress has been made in the past year, but a lot more needs to be done to agree on universally standardised measures for environmental, social and governance impact.
In the public sector and development context, the Donor Committee for Enterprise Development (DCED) Standard is a useful approach to measuring impact, in particular for private sector development programmes. The Joint Impact Indicators mentioned above are also useful indicators for gender, jobs and climate. Organisations such as OECD, EU or the UN will play a significant role in driving this standardisation forward.
In the private sector context, the World Economic Forum's Stakeholder Capitalism metrics – drawn from existing voluntary standards – offer a set of universal, comparable disclosures focused on people, planet, prosperity and governance that companies can report on, regardless of industry or region. This is not a new standard, but practical recommendations that enable companies to take collective action now to report on nonfinancial aspects of business performance to demonstrate longer-term value creation and their contributions to the Sustainable Development Goals. PwC has been collaborating with the IBC and the other Big Four networks to identify the metrics and disclosures, across four pillars of principles of governance, people, planet and prosperity.
Finally, the Value Balancing Alliance is an initiative aimed at encouraging organisations to consider their environmental and social impact and standardise the way this is done. These initiatives are valuable steps forward.
Looking ahead, upcoming events and policies such as COP26 or the Corporate Sustainability Reporting Directive from the EU have the potential of significant impact in terms of standardisation and we should watch that space.
The importance of impact measurement is likely to continue to grow and whether your journey starts as a response to a new reporting requirement or reflects a top-down strategy refresh, I really believe it will lead to new opportunities and significant new sources of value so stick to it and let's make it work together.
___
to join A GLOBAL community of purpose-driven Leaders, apply to become a member of meaningful business here