What is the extent of the refugee crisis right now?
In short, global displacement is soaring – and has risen for the ninth straight year. Despite the pandemic, the number of displaced people in the world (including refugees, asylum seekers, and internally displaced persons) has now risen to 82.4 million, according to the latest Global Trends report released last week by UNHCR, The UN Refugee Agency. That is more than 1 in 100 people in the world! This has doubled in the past decade.
We often view refugees and displaced persons in very narrow ways, but the reality is much more diverse. 48 million people are displaced within their own countries. Nearly 4 million Venezuelans are displaced abroad. 42% of displaced people are under 18. More than two thirds of all people who have fled abroad come from just five countries: Syria, Venezuela, Afghanistan, South Sudan, and Myanmar.
Most importantly there are many myths about where refugees are mainly hosted (hint: not Western Europe) and we often lack a true picture of what is happening around the world. Turkey hosts the most refugees, followed by Colombia, Pakistan, and Uganda. Contrary to what we might think, almost 90% of refugees are hosted by low- and middle-income countries neighbouring where refugees are fleeing from
What is Goal Click Refugees?
Goal Click is a global football storytelling platform, finding people from around the world to tell stories about their football lives and communities – all initially using disposable analogue cameras and their own words.
In 2020 a new series, Goal Click Refugees, was launched by Goal Click in partnership with UNHCR. The ongoing series is collaborating with refugees, asylum seekers, and internally displaced people around the world to document their personal stories and experiences through the lens of football in refugee camps, new host communities, or as professional players.
From refugee camps in Jordan and Uganda to the playing fields of Melbourne and Madrid, the series works closely with NGOs and charities using football to help refugees rebuild their lives after displacement, stay active, make new friends, and improve their skills and life chances. Some of those partners have included UNICEF Jordan, Football United (Australia), Soccer Without Borders (Uganda), and League of Tolerance (Ukraine).
Cameroon – Red Deporte – Yvan Bikambo
Why did you use football as the lens through which to tell these stories?
There are so many people and stories from around the world that are never heard. And football truly is a universal common language, present in every corner of the planet.
Using football allows people to understand someone else's story and culture in a way that might not otherwise be possible. Especially if these stories are related to difficult or complicated subjects that people might not prioritise or be exposed to, particularly refugees, war and conflict, and discrimination in its many forms.
Almost by stealth, football can be a way to bring these subjects to wider attention and help with understanding – these stories can give us all a realistic look into lives and communities that we would otherwise struggle to understand, experience, or identify with.
This is not about tired and worthy concepts of "bringing people together" or "unity", it's about understanding and empathy.
Whilst many stories appear in the media about refugees, it is rare to hear their voices or see their perspective. Using football can challenge existing stereotypes and give an intimate look into the lives of refugees, in a way that no one coming from outside these communities could do.
Italy – Balon Mundial – Sadio Malang
Are there any individual stories you want to highlight?
The series has featured some powerful stories from female refugees, from Syrian girls in Zaatari refugee camp in Jordan and Afghan girls in Europe and Australia. Their stories of breaking down barriers and overcoming resistance from their families and communities to them playing football are inspiring. We are often amazed by their high levels of resilience and courage to play and even become football managers, coaches, and referees. As one of our participants Sofia says;
"To all the girls my age, you cannot say "I cannot do this" or "I am not allowed to do this". Because I have experienced this in my life. You have to fight for everything. I was fighting to play football and I made it."
The photos are often so intimate; they could not have been taken by anyone other than a teammate.
One person that stands out in the UK is Jacob Viera, who truly has an incredible story. Jacob was a professional footballer in Kenya, who was targeted by drug smugglers when he was a youth player. Ultimately, he was the victim of a vicious attack, where he was electrocuted in his own home and was very close to being killed. Shortly after this, he travelled to the UK for a football trial with Newcastle United in 2014 and was advised to claim asylum, which he did. He moved to Liverpool and after five years was granted humanitarian protection. Whilst this ended his professional playing career, he is on track to become one of the first professional referees from a refugee background in the UK.
An often-underreported conflict is in Ukraine, where we have worked with several internally displaced persons. This has included Maria Romanchenko, a 17-year-old footballer originally from Enakievo in the Donetsk region of eastern Ukraine, who now plays for FC Chernomorets Odessa women's team in the first division of Ukraine. Recently we told the story of Sasha Fomichov, head football coach at the League of Tolerance. Sasha is originally a lawyer, teacher, and coach from Donetsk, who moved to the city of Ivano-Frankivsk due to the conflict and mortar strikes on his home.
Ukraine – UNHCR – Maria Romanchenko
Why is it important for the private sector to have a role in supporting refugees?
Now is a more important time than ever before for the private sector to play a role supporting refugees. From a wider perspective, refugee charities and organisations like UNHCR are dependent on voluntary contributions to fund their operations to provide protection, shelter, water, health, and education to refugees, asylum-seekers, stateless and internally displaced people around the world. The pandemic has not helped matters, with countries closing their borders – at the peak of the pandemic 164 countries had closed their borders, with 99 making no exception for asylum.
However, with refugees now displaced for longer periods of time, there is a huge opportunity for private companies to take a leading role in helping integration into new host communities. This could be employing refugees (refugees often bring new skills, experience, and attributes to organisations) or helping them create businesses through loans or training.
But this is not just for the benefit of refugees, supporting refugees can also help businesses themselves – we all know that "doing good is good for business". As the refugee crisis deepens (especially as climate change worsens displacement and the global refugee situation), companies supporting refugees will increasingly attract new consumers who align themselves to purpose-led organisations, and of course refugees are potential customers themselves. There is plenty of research that suggests millennial and Gen Z consumers are more likely to purchase from companies that hire and support refugees.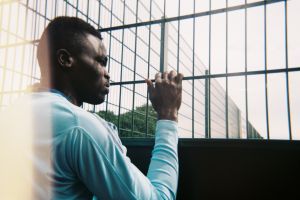 UK – MFC Foundation – Mehdi
How can brands use football and/or storytelling to highlight the refugee crisis?
Firstly, they can join forces with Goal Click and UNHCR as a partner for our Goal Click Refugees storytelling series!
There are so many inspiring NGOs and charities operating in local communities around the world, all engaged in impactful programmes using football with refugees, asylum seekers, and internally displaced persons – developing skills, capabilities, and confidence. They need your money, your marketing support, and your long-term commitment.
Football is often one of the first activities that can be easily introduced to start rebuilding lives and provide opportunities for social integration. And of course, presenting refugee issues through the prism of football is a way to start engaging consumers and employees to care more deeply. Football attracts attention in a way very few other things can.
From a pure storytelling perspective, there is a tendency for businesses and media to talk about refugee issues, without hearing the voice of the refugee themselves. We would always encourage organisations to put refugees at the centre of their own story. Giving refugees the power, freedom, and control over their own narratives and personal experiences will always create more engaging stories.
___
to join the 'Game on' working group, alongside other leaders committed to social impact through sport, apply to become a member of meaningful business here