Meaningful Business (MB:) Please tell us a bit about your background.
Josephine Suleiman (JS): I grew up in a rural village without a lot of money but my parents made sure that we had a roof over our heads and food. They also understood the importance of education and I was fortunate enough to go to school. From the tender age of seven, I used to help my mum sell vegetables in a local market. It always fascinated me that one person is in need of vegetables and another person is able to supply the vegetables at a small fee benefitting both.
After school, I joined the banking industry but always felt something was missing. I felt that I needed to solve real problems that people, especially women, face every day. I decided that there is no better way than to help women as they bring a new life into this world.
Josephine Suleiman, Founder and CEO of Olivelink Healthcare
MB: Please introduce your business and the problems you're trying to solve.
(JS): Olivelink Healthcare was founded in 2012. After working in the banking industry for 18 years, I retired in 2006 and joined the health industry as an administrator of a big hospital where I worked for nine years. During that time, we received many mothers from a particular informal settlement (Sinai slums in Nairobi), who were coming in for maternity/delivery services to the hospital, which was seven kilometres away.
When we visited the settlement, it dawned on us that these mothers were looking for a place where they could be treated as human beings; somewhere they could feel safe, during that important moment in their life. Olivelink exists to provide high quality, accessible and affordable maternal and medical services to people living in informal settlements within Kenya and beyond.
Nurse vaccinating a child in Sinai, Nairobi
MB: What is your biggest challenge right now and what support do you need?
(JS): Our biggest challenge right now is scale. It is estimated that 10 million Kenyans dwell in informal settlements (slums) and are the most vulnerable communities. How do we get every mother to deliver their babies in a hospital set up under skilled attendants? This will avert unnecessary maternal and child mortalities because no woman deserves to die when giving birth.
Financial support from partners and well-wishers is what we need to help reach more families.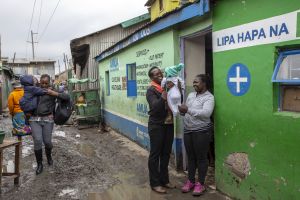 Josephine talks to a mother outside an Olivelink Healthcare clinic
MB: What is your ambition for the future of your business?
(JS): We have so far served 115,000 patients, including 4,000 mothers who have had safe deliveries, impacting over 550,000 lives. How do we double or triple these numbers in the next five years? There is evidence that physical activity may prevent gestational diabetes (diabetes that develops during pregnancy), relieve stress, boost ones mood, and build more stamina needed for labour and delivery, amongst other advantages. Our target is to reach 1,000 expectant mothers by December 2022 and teach them about this.
MB: What is your advice to other leaders who want to combine profit and purpose?
(JS): When your "WHY" is strong enough, combining profit and purpose is achievable.
________
Quickfire Questions
MB – Tell us a mistake you've learned from:
(JS): When we opened our second clinic I didn't realise that our new staff had come from different backgrounds with different beliefs. They had not understood Olivelink Healthcare's purpose and vision since they had not gone through our system. We ended up having to close the clinic.
MB – How do you spend your time away from work?
(JS): I spend time with family and friends, which is very important and fulfilling. I like listening to music and watching TV programmes of interest. To keep healthy and strong, I go to the gym to work out.
MB – What's the best piece of advice you've ever received?
(JS): The power to achieve what I set out to do, is within me.
MB – What is the one book everyone should read?
(JS): I am not a person who reads a lot of books, but I would recommend "The Mountain Within" by Herta Von Stiegel. It has inspired me a lot in my leadership journey.
MB – What is something you wish you were better at?
(JS): I procrastinate on issues at times, I wish to be better at this.
MB – What's one thing you want to achieve in 2022?
(JS): I want to continue to positively impact more people within our community and beyond. To achieve this I need to have a team that is 100% bought in to the values and vision of Olivelink Healthcare.
________
Discover the other leaders recognised on the 2021 MB100, for their work combining profit and purpose to help achieve the United Nations Global Goals, here.