Covid-19 hit all corners of the globe at speed. We knew the entire sport-for-social-impact sector would suffer, and what that really means is that we were preparing for some of the world's most vulnerable people to need more support than ever before. This was precisely why we brought people together to create the Sport for Good Response Fund.
Together with our sister organisation and global Foundation, Beyond Sport, we brought together likeminded organisations to support the sport-for-good sector; Comic Relief US and UK, Chivas Regal, Kevin Durant Foundation, Z Zurich Foundation, Hong Kong Rugby Union Community Foundation, LA84 Foundation, and Laureus Sport for Good.
Changing the funding model – at pace
We knew we needed to act fast and be prepared to be flexible about our approach to funding. We'd never created a fund during a worldwide humanitarian crisis before, but what we did know is that we needed to get cash grants out of the door fast. We also knew that we wanted to safeguard the future of sport-for-good organisations. We completely ripped up the rule book and decided to create a funding model that provided user-centred short and long-term support.
This was challenging for several reasons:
We needed to find out quickly the types of medium to longer-term support sport-for-good organisations needed
We needed to change our thinking from reacting to rebuilding, answering the question, 'what expertise and support do organisations need to ensure they come out of this crisis stronger and better equipped to support the changing needs of their beneficiaries?'
We needed to analyse the above information quickly and then line up the appropriate expertise to make it happen.
What we landed on was a flexible funding model with:
Easy to access cash grants
Fundraising masterclasses that covered a range of mechanisms for generating investment
Bespoke roundtables discussions – bringing together experts from across sport and social impact, and facilitating discussions so that organisations could receive guidance from a diverse group, and develop a develop a set of allies from other sectors

One-to-one consultancy split into two focus areas – financial resilience and strategy development.
Sport-for-good organisations were able to apply for specific elements that were relevant or apply to receive all the support on offer.
Rebuilding during a crisis
Over 40 organisations received cash grants helping them to keep afloat, as well as adapting their work to help their beneficiaries continue to access support. Through the strategic support delivered, we saw a real blend of challenges being addressed across the sport-for-good sector. Some organisations needed to simply react, pivoting their work to ensure basic Covid-19 safety was available within their communities, whilst others were able to use it as an opportunity to pause, rethink, and redevelop their programmes, communications, and development strategies to begin the community rebuilding process through sport.
Sport-for-good organisations cited unexpected benefits from the support they received, such as feeling less isolated, growing personal networks in a way that meant they felt they had allies around the world, and being able to work on things that were often pushed to the side because of the daily 'churn' of delivery. Several organisations received individual strategic consultancy that they might have never been able to afford prior to Covid-19, and this guidance helped them to refocus and reposition themselves to future commercial partners and navigate new thinking as they redefined their purpose. They told us that they felt seen, heard and cared for through the flexible support in times of need, and as a result led to organisations being able to continue to care for some of the world's most vulnerable people, as well as ensuring that they would still be operational when it was time to support people emerging from the trauma of the pandemic.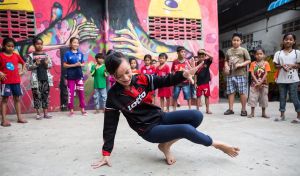 Tiny Toones, using the sport of breakdancing as a tool to engage with Cambodia's most at-risk and hard-to-reach young people – part of the Beyond Sport network.
What does it all boil down to? People.
What we've learnt from this process is that the people in this sector make the biggest difference. We knew this deep down, but we didn't cite it enough, or keep it at the forefront of our minds. What sport for good does is brilliant, it's done with intent, purpose and authenticity, but it's the people that are crucial to this work happening. It's the people in our sector we need to look after. Whether that's doing everything we can to protect jobs, creating psychologically safe environments, or helping people to upskill and adapt, it all must be person-centred.
What was also clear from the offset is that support doesn't always need to be money. A blend of money and in-kind strategic support is extremely valuable, and perhaps goes even further in the long term. Throughout, it was clear that together we can go places that we couldn't go alone: each organisation, no matter what size or reach, has something to offer another organisation. Organisations coming together during a time of global crisis to share, learn and adapt, has added more strength and value to the sport for good sector.
Radha Balani, Director of Design and Facilitation, thinkBeyond
The sport-for-good sector has made it through the Covid-19 crisis so far, but it doesn't stop there. As countries continue to battle with the crisis in different ways, we've shifted our support from response to rebuild.
We've seen first hand that a mixed funding approach during times of crisis works, and it works well. We know more support is needed out there to continue to help some of the world's most vulnerable people through sport for good, as well as protect the people who lead this invaluable work.
If you, or your organisation are interested in talking about how you can support the global sport for good sector, we would love to talk to you.
___
to join the 'Game on' working group, alongside other leaders committed to delivering social impact through sport, apply to become a member of meaningful business here.