Meaningful Business (MB:) Please tell us a bit about your background.
Sujay Santra (SS:) Realising that there will never be a sufficient number of doctors in India to treat patients individually, I founded iKure in 2010 with the objective to provide affordable and accessible primary healthcare to the last mile using technology. Today, iKure caters to 12 million underserved people across eight states in India, treating more than 1 million patients.
In recognition of outstanding efforts in the field of social innovation, I received an Ashoka Fellowship in 2016 and was named as one of the '100 Most Impactful Healthcare Leaders' in 2019. I've been a speaker at many national and international forums, including recently at the United Nations.
MB: What is the problem you are trying to solve?
SS: India has a vast population of 1.3 billion and requires 200,000 health and wellness centres to address the demand and supply gap. iKure is setting up a chain of primary healthcare clinics using technology. We wanted to create an infrastructure, where people can access the health system with hope and newer possibilities. We're already working with the state governments of Nagaland and Jharkhand. This has set an example for others to follow, where we are partnering with five state governments to leverage the shared digital infrastructure for greater utilisation and access to health and wellness centres and promote prevention and awareness at the community level.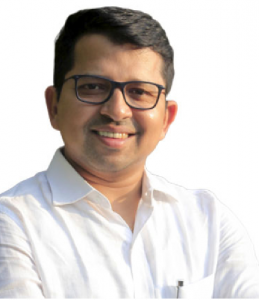 Sujay Santra, Founder & CEO, iKure
MB: What is your biggest challenge right now?
SS: Healthcare faces multiple challenges, including social and cultural issues like poverty, ignorance, illiteracy and many more.
Some of the recent problems we are seeing post pandemic are in the areas of NCD, diabetes, hypertension, anaemia and mental health related challenges. We provide a continuum of care for these issues using AI and Machine Learning.
MB: What is your vision for the future of your business?
SS: Our mission is to create zero mortality in primary healthcare so that we can impact 50 million people by 2025. iKure aims to build a shared infrastructure for multiple actors to come together to solve this common goal. We are present in India and several parts of Africa, MENA and South East Asia countries. Our aim is to work collaboratively and become the voice of public healthcare.
MB: What is your advice to other leaders who want to combine profit and purpose?
SS: Profit can meet purpose when a team believes in an idea. So, stay true to that idea as much as you stay true to yourself. Explain your strategies and goals and reinforce them internally. Design an architecture which fosters trust and ownership. The pandemic has shown us that unless we have strong fundamentals in place, everything becomes meaningless.
________
Quickfire Questions
MB – What's the best piece of advice you ever received?
SS – Persistence and perseverance are important traits of an entrepreneur, so build on it without burning it.
MB – Who inspires you?
SS – My father, a very successful bank manager and known for his generosity and intellect, has been my greatest source of inspiration. He has left a mark on every human life he touched. Witnessing the difficult circumstances of humanity, be it families getting cash strapped due to healthcare expenses or poverty that prevented them from accessing the basic amenities, my father helped them all – transforming shortfall into values.
MB – How do you define success?
SS – By counting the smiles of our beneficiaries, improving the quality of their lives and averting deaths through better access to healthcare.
MB – What is something you wish you were better at?
SS – Being more emotionally open and self-aware.
MB – What is the one book everyone should read?
SS – "The Alchemist" by Paulo Coelho and "Rich Dad, Poor Dad" by Robert Tayosaki.
MB – What do you do to relax?
SS – I listen to music, take a long walk or drive somewhere and have some good food. That's how I am able to handle pressure or stress.
________
Discover the other MB100 leaders recognised for their work combining profit and purpose to help achieve the United Nations Sustainable Development Goals in 2020, here.