Meaningful Business (MB:) Please tell us a bit about your background.
Juliet Namujju (JN): I grew up in poverty as an orphan with my single grandmother in a remote and rural village in Uganda, and my family experienced victimisation of disability. My Grandmother was a tailor and inspired me, as a child, to use cut-offs and plastic waste I would gather from the streets, to produce my own dolls as she could not afford to buy me toys.
What others threw away, I started to use as available resources to create something. This changed my mindset towards waste and I started to see the value in protecting the environment. At the age of 20, my team and I founded Kimuli Fashionability; a sustainable fashion brand that fights for the conservation of the environment and inclusion of persons with disabilities.
We use plastic waste materials to produce fashion and accessories, handmade by our tailors with disabilities, who we train and employ to creatively upcycle waste into beautiful products with a purpose. This brings awareness to the global plastic waste crisis. Waste is only waste if you waste it.
Juliet Namujju, Founder and CEO of Kimuli Fashionability
MB: Please introduce your business and the problems you're trying to solve.
(JN): Kimuli means 'Flower' in the local language, Luganda. We turn what people see as trash into something beautiful like a flower.
Kimuli Fashionability is transforming the plastic waste crisis in Africa into an inclusive eco-fashion label, providing employment opportunities for disabled tailors and youth. We are turning plastic polythene into durable, sustainable and waterproof garments and accessories.
Kampala alone experiences over 28,000 tons of plastic waste freely disposed every day without a functioning garbage disposal system in place. Less than half of this plastic waste is collected, leaving 51% uncollected plastic waste on the ground. Only 1% of plastic waste is formally recycled. Due to these circumstances, huge amounts of plastic is poorly disposed of in open environments, and/or burnt causing health and environmental dangers.
On the other hand, people with disabilities are often excluded from full participation in social, economic and educational programmes with the assumptions that they are slow, less productive and incompetent, resulting in severe poverty for many disabled people. According to Uganda Population and Housing Census 2002, 6% of the population i.e., 6.5 million people have a disability.

Children wearing raincoats made by Kimuli Fashionability
MB: What is your biggest challenge right now and what support do you need?
(JN): One of our key challenges is market expansion. We have a significant skills gap in understanding our market demographics, trends and expansion factors. We also have a limited work space which is not conducive for our beneficiaries and reduces our production capacity. Thirdly, we are working limited capital and there is an ignorance about proper waste management and disposal in Uganda.
Our growth plans are as follows:
Expanding our market within East Africa and Africa at large
Expanding our production lines in order to increase our sales
Trademarking our brand
Have stories for all our products
Creating a fashion mindshift
Designing normal products that are suitable for our customers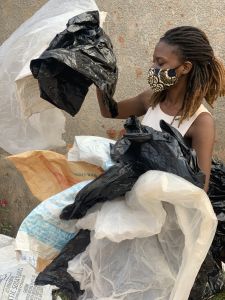 Sorting through plastic waste to be converted into fashion
MB: What is your ambition for the future of your business?
(JN): To create unique garments using upcycled textile and plastic waste, blended with traditional African fabrics, manufactured by people with disability.

Kimuli Fashionability garments
MB: What is your advice to other leaders who want to combine profit and purpose?
(JN): To my fellow leaders who want to combine profit and purpose, I urge them to utilise each and every opportunity that comes their way, through partnerships, networking and hard work. Don't wait to have lots of money to start. Start small and grow big as you learn from your failures.
________
Quickfire Questions
MB – Tell us a mistake you've learned from:
(JN): In 2017 when we had just started as Kimuli Fashionability, we got an order of over 200 up-cycled makeup and cosmetic bags from Berlin, Germany. As it was our first order, we prioritised looking at numbers and money instead of quality and customer needs. One team member suggested to follow a prototype approval process but as the lead I neglected the idea.
We worked tirelessly with our disabled tailors but unfortunately the customers didn't like the colour selection, designs and quality of the products and only two bags were bought. This created a lot of losses because part of the capital was borrowed. Since then, we introduced Holacracy which moves with distributed roles and accountabilities, giving space for growth and decision making for all team members. I also learnt that feedback and an open ear is key for decision making in leadership.
MB – How do you spend your time away from work?
(JN): I go home, take a bath, eat something, rest for 30 minutes, check my social media platforms, eat supper then sleep.
MB – What's the best piece of advice you've ever received?
(JN): I should always seek knowledge and always rebrand myself
MB – What is the one book everyone should read?
(JN): The Entrepreneur Mind by Kevin D Johnson
MB – What is something you wish you were better at?
(JN): Photography
MB – What's one thing you want to achieve in 2022?
(JN): To start a blog inspiring young African entrepreneurs by sharing my real entrepreneurial life and how to run a sustainable social enterprise.
________
Discover the other leaders recognised on the 2021 MB100, for their work combining profit and purpose to help achieve the United Nations Global Goals, here.