Please tell us a bit about your background.
Marcelo Behar (MB): I was born and raised in Sao Paulo, but spent some time in Belgium on a scholarship (before the internet, Dinosaurs were not yet fully extinct…), before completing my undergraduate degree in Sociology and Law in Brazil. I began my professional life as a journalist covering foreign policy, before moving onto working with various NGOs and at the Brazilian Federal Government, where I led the disarmament campaign.
After having served the public sector for six years I moved to the private sector, first in infrastructure and then at Natura &Co, always trying to drive change in areas like Sustainability and Public Affairs. I recently moved to London with my family and work as Vice-President for Sustainability and Group Affairs for Natura &Co, a group that comprises amazing companies like Avon, Natura, The Body Shop and Aesop.
What led you to start the various SDG-focused initiatives at Natura?
MB: Natura has been committed to the sustainability journey for over 30 years. The company chose to work with the Amazon and with traditional communities over 20 years ago. Avon has been empowering for over 130 years. The Body Shop was the first company to connect to NGOs like Greenpeace and to advocate for social-environmental causes decades ago. So, when the SDGs where established, it became a case of focusing and aligning a lot of what we were already practicing to the 17 initiatives. Forest protection and women empowerment are certainly both part of our heritage and practices.
What are the main problems you are trying to solve?
MB: My role is to make sure our four companies are working together and towards achieving our key sustainability goals which include; addressing the Climate Crises, becoming net zero by 2030 and protect the Amazon by fostering collective efforts towards zero deforestation by 2025. Defending human rights and being human-kind, tackling the gender gap in 3 years, assuring living wage for every colleague and becoming a beacon for inclusiveness. Finally, embracing circularity and committing to become fully circular in packaging and to invest in regenerative solutions. They are certainly not easy tasks, but it is what really drives us.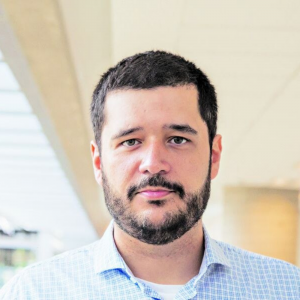 Marcelo Behar, Vice President Sustainability & Group Affairs, Natura &Co
What is your biggest challenge right now?
MB: Probably figuring out how to move others along with us. Almost none of the commitments we made are achievable by ourselves. In order to get there we must engage our networks, governments, competitors and connect with science and NGOs keeping each other accountable and making sure that we stay on track. This will be a decisive year for everyone. We will decide if we can finally set a common framework for carbon and if we will be able to truly value nature.
What more can corporates do to help achieve the SDGs?
MB: A lot. I think there are three ways to tackle it. The first one is the one we are all in: talk about it. Discussions are being had and concepts are being constructed. I expect that goodwill will prevail; but in that pace it might take a 1,000 years to achieve clear results. Unfortunately we don't have the luxury of time to tackle the Climate Crises. The second one would be aligning the Nationally Determined Contributions (NDCs) at a national level with clear incentives and penalties for business and citizens, which is a bit of a 20th century solution. And finally, a shift towards a more democratic solution where markets decide to invest in companies with clear sustainability targets, metrics and third party supervision. Where consumers understand their role as citizens and demand sustainable practices by businesses, and where countries create mechanisms to collaborate towards shifting investments from fusel fuels towards greener and more sustainable fuel sources which preserve and regenerate nature. Not easy, but doable.
What is your advice to other leaders who want to combine profit and purpose?
MB: Those are not two different dimensions or opposite perspectives. One should follow the other and are certainly more legitimate and effective when they do. When business develops, it does so under a social license to operate. Connecting better with the premises of that permission can only do good.
In practical terms, considering the primal physical boundaries where you are operating is always a good start. From which river does your water come from? Which is the biggest portion of forest close to you? Are the people who work with you living well? When you are working towards answering these questions as a business you are probably combining profit and purpose.
________
Quickfire Questions
What's the best piece of advice you ever received?
Always put yourself in the other person's shoes.
Who inspires you?
Socrates. Not the philosopher, but Socrates the Brazilian physician who became a soccer legend and defended democracy in Brazil.
How do you define success?
Work on things you want to transform and being able to do so.
What is something you wish you were better at?
Enjoying exercise.
What is the one book everyone should read?
"The Aleph" by Jorge Luis Borges.
What do you do to relax?
I hike with my family.
________
Discover the other MB100 leaders recognised for their work combining profit and purpose to help achieve the United Nations Sustainable Development Goals in 2020, here.