Meaningful Business (MB:) Please tell us a bit about your background.
Adebowale Onafowora (AO): Fondly called Debo Onafowora; I was born 42 years ago in Ogun-state, Nigeria. I studied Quantity Surveying, but ventured into Agriculture months after I graduated from college in 2002. I grew up with a father that taught me and my siblings many hands-on skills, including how to cultivate vegetables and raise livestock. I ventured into this field precisely five months after I graduated from college, because I saw an opportunity in it.
I'm also an Ashoka Fellow, Fellow of the Institute of Agribusiness Management, Nigeria, Green Skill Innovation winner, an MB100 winner, and a certified Transformational Coach.
Adebowale Onafowora, MD & CEO of Bic Farms Concepts
MB: Please introduce your business and the problems you're trying to solve.
AO: I founded Bic farms Concepts in October 2006 to change the Nigerian food production system. We aim to do this through the introduction and implementation of agri-technologies like hydroponic, Recirculating Aquaculture System (RAS), drip irrigation, and cottage processing of agro-produce for smallholder farmers, women and youth.
The Nigerian food production system, particularly in the south, is ineffective and inefficient, leading to mass importation of basic staple foods. This has contributed significantly to unemployment and job flight from Nigeria.
We provide and deploy agri-technology, and train people to use the technology for themselves.

Debo Onafowora in a agritech farm
MB: What is your biggest challenge right now and what support do you need?
AO: Our biggest challenge right now is the cost of financing our technology! Currently, it's not cheap to set-up hydroponic technology farms, install irrigation systems for our open field cultivators, etc.
We need impact investors who can finance these technologies, or cheap financing which will allow our clients to payback loans with single digits interest over 5-10 years.
An agritech farm
MB: What is your ambition for the future of your business?
AO: My ambition is to become the most influential social entrepreneur in Africa. I'm working on my mission of raising 100,000 agri-preneurs by 2025. If these individuals can generate 10 jobs each, we can collectively create 1 million jobs, as well as driving a major system change in the African food industry.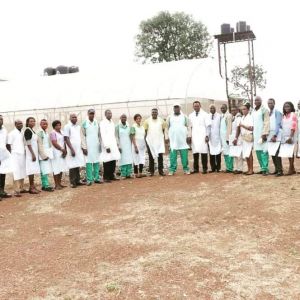 MB: What is your advice to other leaders who want to combine profit and purpose?
AO: My advice to anyone trying to combine profit and purpose in business is this; you need a very clear vision, and a strong believe in yourself. It's important to know that social entrepreneurship is a calling. The need and desire to see lives and communities impacted must be greater than that of profit. Also, my belief is that everything we do in business is meant to serve the purpose of the creator of the universe, not personal desire!
________
Quickfire Questions
MB – Tell us a mistake you've learned from:
AO: Not been structured on time! A business that doesn't have a structure, will definitely die. So, to business owners, get structured, or close shop! Structure helped to restore my sanity, as I was losing it when I was operating as a one man business.
MB – How do you spend your time away from work?
AO: I read books and watch movies with my family. I also spend time in church serving.
MB – What's the best piece of advice you've ever received?
AO: "Money is in people's hand, I must learn how to collect it legally." The way to collect money from people is to master sales! That selling skill is the greatest skill an entrepreneur must possess.
MB – What is the one book everyone should read?
AO: The E-Myth Revisited or Rich Dad, Poor Dad.
MB – What is something you wish you were better at?
AO: Goal setting.
MB – What's one thing you want to achieve in 2022?
AO: This year 2022, I want to establish a 40 acre irrigated cluster of Hass Avocados orchards, and complete the setting up of the Bic Hydroponics technology hub to full capacity.
________
Discover the other leaders recognised on the 2021 MB100, for their work combining profit and purpose to help achieve the United Nations Global Goals, here.