How are the Circular Economy (CE) and SDG 12 – Responsible Consumption and Production – linked?
Marcelo Behar (MB): SDG 12 was designed out of recognition that our current patterns of consumption and production are causing grave harm to the natural world. Systemic change is required, and this involves a transition from the linear economy to a circular economy. Currently, we are producing and consuming at a rate which uses our planet's resources faster than nature is able to replenish them. To slow the pace at which we are depleting nature, and eventually halt and reverse this trend altogether, we must learn to operate within the realms of nature. This means extending the lifecycle of products – through methods such as reusing, repairing, recycling and remanufacturing – to reduce the destructive effects of our production and consumption on the planet.
How would the wider adoption of a Circular Economy help achieve SDG targets?
MB: Most obviously, the CE embodies responsible consumption and production. The fundamental idea behind SDG 12 is 'doing more than less'. By utilising products and materials for longer and disposing of them responsibly, the circular economy allows us to use what we already have rather than taking more from nature.
Looking beyond the Circular Economy and SDG 12, it also extends to various other SDGs, including but not limited to the following. It enables us to redesign production and consumption to eliminate waste and pollution, and provides an opportunity to regenerate natural systems. The positive impact this has on nature, and the species which depend on it, accelerates our efforts towards SDG 15 – Life on Land, and SDG 14 – Life Below Water. Similarly, because waste and pollution contribute to the worsening climate crisis, and conversely because nature's assets can act as a carbon sink, the CE can also help us achieve SDG 13 -Climate Action. Further, with an estimated 1.3 billion tonnes worth of food going to waste each year and almost 10% of the world's population going hungry, the reduction of waste achieved through the CE can help tackle SDG 2 – Zero Hunger.
What benefits does a circular economy bring to your industry?
MB: Nature provides renewable ingredients which can be used sustainably by the cosmetics industry. Besides increasing the quality of beauty products, it offers a model in which the equation takes into account the environment in a positive way. Through innovation, Natura &Co has discovered ways to sustainably source natural ingredients through partnerships with over 60 local communities, in ways which protect nature by offering a new pattern of development for those who live in the forest and enrich the forest by their activities.
In the early 90s the Amazon's Uccuberia tree was declared an endangered species due to its overexploitation in pursuit of Ucuuba wood. Natura, our mother company, provided a solution by paying local communities three times more than what was paid for the tree's wood, in exchange for half of the tree's seeds annually. Not only did this allow the communities to stop chopping the tree down and instead to start planting the tree back, it also provided Natura with Ucuuba butter which gives products in its Ekos line their incredible restorative and hydrating properties. This is one example of the many invaluable ingredients which nature has to offer to the cosmetics industry, which are protected by the circular economy.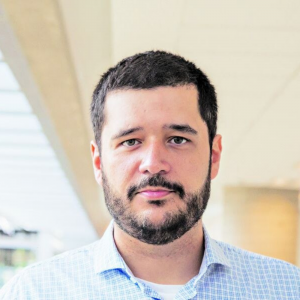 Marcelo Behar, Vice President Sustainability & Group Affairs, Natura &Co
What can businesses of all sizes do to start implementing circular principles?
MB: To embrace circularity, businesses must turn their attention to making every stage of the product cycle more sustainable, from the sourcing of materials to how consumers dispose of the product. One key component is making packaging more circular. Natura &Co has committed to having 100% reusable, recyclable or compostable packaging material by 2030, and for 50% of all plastic used to be recycled content by 2030. Products across Natura &Co's four businesses – Avon, Natura, The Body Shop and Aesop – are transitioning to PCR materials such as PET PCR packaging. Natura &Co has set a target to have 95%+ renewable or natural ingredients and 95%+ biodegradable formulas by 2030.
Furthermore, businesses can also engage customers to drive the wider adoption of circularity principles. For example, last year one of Natura &Co's businesses, The Body Shop, opened new concept stores with refilling initiatives, allowing customers to fill a 250ml aluminium bottle with a shower gel of their choice, and rinse and refill it when the bottle is finished.
What are the main barriers most commonly experienced when adopting circular principles, and what can businesses, industry and regulators do to help overcome these?
MB: Single use plastic has always been one of the biggest challenges faced by the cosmetics industry. To address this barrier, we are exploring various different solutions. Last year we replaced 3,040 tonnes of virgin plastic packaging for PCR plastic, and we are looking to increase that number further this year. Where possible, we ensure that our plastic is sourced in the most environmentally conscious ways. For example, one of Natura &Co's businesses, The Body Shop, partners with Plastics For Change through which plastic is sourced from marginalised waste pickers in India, offering them a fair price, steady income and better working conditions in exchange for plastic which can be reused. Here it is important to note that when we think about overcoming barriers to the adoption of circular principles, collaboration is key. For environmental issues there is no space for competition but instead we must work together to find disruptive solutions to shared problems. For instance, Natura &Co is a signature of the New Plastic Economy Global Commitment from Ellen MacArthur Foundation, a reference in the field of plastic, which is driven to develop and promote the idea of a circular economy.
How should businesses measure success when implementing CE principles?
MB: The implementation of CE principles involves an alteration from business as usual. Given this reality, we encourage businesses of all sizes to set bold and ambitious targets to start making shifts away from the linear economy and to embrace greater circularity. The process is a journey and businesses need not have all the answers to begin, but rather a willingness to learn from their own experiences and the experiences of others in their field. Once targets are set it's crucial for businesses to track progress for the sake of transparency and to hold themselves accountable to their goals. We must apply the same rigour and scrutiny to sustainability reporting as we do financial reporting, and this extends to targets related to the implementation of the CE And finally, we must all be open to take nature into our business models not only respecting its boundaries and limits, but truly using business as a force for regeneration. There is a world to be reinvented. We need not only to set negotiated common targets but set the pace to achieve them collectively.
___
to join the regenerate community, apply to become a member of meaningful business here