Meaningful Business (MB:) Please tell us a bit about your background.
Fran Beer (FB): I founded The Beeswax Wrap Co. in 2017 in a bid to live more sustainably and plastic-free, starting within my home. I left a marketing role to train as an acupuncturist and during this process I became increasingly aware of the effect plastic was having on our health. I started to look for replacements and noticed there were little-to-no alternatives to cling film on the market. So I started making beeswax wraps in my kitchen. A few ruined irons – and a lot of perfecting our secret wax blend later – the product was created (and a brilliant little company!) that we are incredibly proud of.
Fran Beer, Founder, The Beeswax Wrap Co.
MB: Please introduce your business and the problems you're trying to solve.
FB: The Beeswax Wrap Co. creates simple and sustainable swaps to reduce plastic and help you waste less. It's our aim to make beautiful yet practical and planet-friendly swaps for your home. From day one, my mission was to create a company as sustainable and eco-friendly as the products being handcrafted in our solar powered Cotswolds workshop. Right down to the details, The Beeswax Wrap Co. carbon balances all of our eco-friendly packaging and supports threatened habitats and woodland in the process. We are proud living wage employers in our small Cotswolds town, we are working with The Planet Mark and B Corp on achieving carbon net-zero status by 2030, and we have recently been recognised as one of B Corporation's global top 5% of companies doing great things for the environment. We also work with designers who create one off designs for us and when the wraps are sold we ask the designer to choose a charity they'd like a percentage of the profit proceeds to go to.

The process of making beeswax wraps.
MB: What is your biggest challenge right now and what support do you need?
FB: Our biggest challenge right now is reaching a wider audience. We have a hugely loyal customer base who have helped us spread the plastic-free message, but now we need to step this up so we can reach customers who may not have had much exposure to reducing their reliance on single use plastics.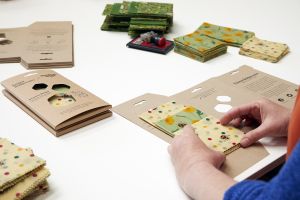 The process of packaging the beeswax wraps.
MB: What is your ambition for the future of your business?
FB: I have huge ambitions for the business. We are currently collaborating with Emma Bridgewater, Cath Kidston, The National Trust and Prue Leith on beautiful print products and we have some very exciting collaborations in the pipeline for later this year too. Our main ambition going forward is becoming more of a household name; a lot of people still need to be introduced to what Beeswax Wraps are and how they can incorporate them into their everyday lives.
The beeswax used for the wraps.
MB: What is your advice to other leaders who want to combine profit and purpose?
FB: Understanding the benefits of balancing profit and purpose so you can truly believe in what you are doing and why you are doing it, and don't feel like you are having to make sacrifices. As a business, we can very clearly see how the decisions we've made to align with our purpose have, in-turn, driven our profit.
________
Quickfire Questions
MB – Tell us a mistake you've learned from:
FB – Put everything in writing. I am a very trusting person by nature, so that was a very sharp learning curve.
MB – How do you spend your time away from work?
FB – I'm very fortunate to live in the Cotswolds so I love to explore the gorgeous countryside where I live and I'm always on a quest to expand my love of homemade crafts. But, of course, juggling a fast-growing business with a lively family means that I'm very happy at home curling up on the sofa with my latest box set binge.
MB – What's the best piece of advice you've ever received?
FB – I had some great advice from Holly Tucker who told me, 'You are the one person who truly understands your business, so take advice, but never think that that person knows better than you.'
MB – What is the one book everyone should read?
FB – "The Grapes of Wrath" by John Steinbeck. Although it was first published in 1939 its message is extremely relevant now. When you are having a stressful day at work it puts everything into perspective.
MB – What is something you wish you were better at?
FB – Not overthinking. I would love to be able to have a little switch I could just flick to turn off my whirring brain.
MB – What's one thing you want to achieve in 2022?
FB – More contact. Over the past year or so I have really realised how much we need contact with each other, whether that is with friends and family or with our lovely wholesalers and customers. We thrive when we can meet and chat. Brilliant and exciting ideas come from collaboration, and making those ideas a reality is when the positive changes we need for ourselves and the planet come to life.
________
Discover the other leaders recognised on the 2021 MB100, for their work combining profit and purpose to help achieve the United Nations Global Goals, here.