Meaningful Business (MB:) Please tell us a bit about your background.
Jane Nakasamu (JN): I was raised in Zambia as a global citizen. From high school, I got introduced to community service when I joined a club known as the Global Net Generation of Youth (NGY). I took part in the Global Connections and Exchange Programme, where I travelled to the US to attend a National Student Leadership programme in the category of International Diplomacy.
I studied International Relations at Cyprus International University (CIU). At CIU, I led the creation of a university version of NGY that promoted social entrepreneurship. That's where my friends and I created the idea of Greenbelt Energy. I then proceeded to do an MBA in Oil and Gas Management from Unicaf University.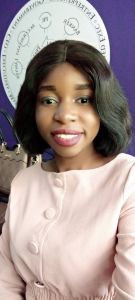 Jane Nakasamu, CEO of Greenbelt Energy
MB: Please introduce your business and the problems you're trying to solve.
JN: Greenbelt Energy bottles biogas from organic waste and produces smart biogas stoves, enabling people – particularly women who do the majority of the cooking – to prepare food quickly, safely and cleanly. We also offer renewable energy services that enable companies and individuals to take part in environmental management through access to knowledge and clean tech.
One of the COP26 resolutions is to end deforestation by 2030. In Zambia, 90% of the population is dependent on charcoal and firewood for cooking. This has resulted in charcoal-led deforestation, with 300,000 hectares of forest being lost every year in Zambia alone. According to a WWF study, at this current rate of deforestation, Zambia will not have enough forests for fuel wood by 2030. In Africa, 80% of the population lack clean energy while 890 million cook with traditional fuels.

Jane and her team with the bottled biogas.
MB: What is your biggest challenge right now and what support do you need?
JN: Our biggest challenge right now is raising capital to support our growth within the market. Current raw material prices are very high for biogas technology, and when we factor in importation costs our product is above market average. This makes it difficult to compete with charcoal which is very cheap and readily available. We are seeking investment to grow in the market, and additional marketing support will also help us increase our clientele.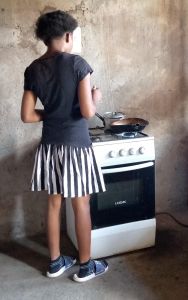 A girl using a biogas stove.
MB: What is your ambition for the future of your business?
JN: Our growth strategy is to enter new markets in Africa that are faced with the challenge of access to energy. We would also like to work with more companies to help them manage their energy needs sustainably. Another ambition is to increase our product lines, to include solar products, clean cookstoves and power management technology.
Cows in a village, which are a potential source of biogas.
MB: What is your advice to other leaders who want to combine profit and purpose?
JN: I believe that there are no great companies but rather great leaders, and team players that can transform innovation into evolution for good. As leaders, we need to cultivate an attitude of self-awareness and self-development, to build characters that reflect virtue, knowledge and compassion towards others.
________
Quickfire Questions
MB – Tell us a mistake you've learned from:
JN – I once invested in equipment that I have never used or profited from to date. I have learnt to diversify my investments to include ventures that provide liquid capital.
MB – How do you spend your time away from work?
JN – I love to volunteer at my local seventh day Adventist church as a youth leader and mentor.
MB – What's the best piece of advice you've ever received?
JN – You need to invest in more liquid ventures. My close friend and inspirational change maker, Florence Mulenga, helped me deal with my poor investment mistake.
MB – What is the one book everyone should read?
JN – Proverbs of Solomon and Ecclesiastes. I get very sound investment insights from there.
MB – What is something you wish you were better at?
JN – I wish I was better at self-care.
MB – What's one thing you want to achieve in 2022?
JN – To make a real impact on the Zambian market.
________
Discover the other leaders recognised on the 2021 MB100, for their work combining profit and purpose to help achieve the United Nations Global Goals, here.