Meaningful Business (MB:) Please tell us a bit about your background.
Bhagya Wijayawardane (BW:) As a sustainability educator, I've studied, practised and taught permaculture and deep ecology for many years. I co-produced creative social change symposiums, workshops, and guides. I also built a community centre that provides a safe space for women, and the broader community, to share and learn about ecovillage lifestyles, compassionate communication, health, well-being, peace and reconciliation.
Having lived in traditional villages and intentional communities in Thailand, India and Sri Lanka, I worked with young women and communities in transition to ecovillages and those facing climate change, focusing on creating home gardens as a tool for ecological regeneration. As a survivor of child abuse, I try to create spaces of deep connectivity to hold and nurture women.
As a social enterprise, we sell local produce from farms and strive to be a model in the community on how to balance business, social and ecological sustainability.
I'd like to scale this solution by building ethical businesses and fair-trade networks. I would also like to learn more innovative ways to celebrate cultural heritage, work for healing and reconciliation, grow abundant gardens for food sovereignty and work with natural resources to restore ecosystems.
At Eshkol Agro Solutions, we educate people on topics like organic farming, healthy eating, and how the global economy and emerging industries affect our daily lives. We also tell them about online and offline interactive educational forums that raise awareness on these topics. Our products are created and offered for free in community school initiatives using salvaged resources that would otherwise be sent to the landfill.
MB: What Led you to start Eshkol Agro Solutions?
BW: I started a campaign named 'Anybody Can Grow' that aims to create an equitable and safe food system by ensuring access to garden space and healthy food, and by educating gardeners of all ages. After being subjected to harassment, corporate miseries, pressure and gender inequality at my workplace, I realised that some people or organisations that I worked for didn't reflect the values they spoke about publicly. Owning a relentless attitude and unbending ethics, I stood up for what I believed in and decided to walk out into a journey that opened me to soul searching.
I went travelling around Sri Lanka and then in India exploring nature, self-reliance and confidence. In my journey, I heard stories of families adversely affected by climate change, I saw malnutrition, suicide attempts by farmers to escape debt traps, stunted growth in children, increased school dropout rates due to hunger and lack of the free morning meal, escalating food costs, nutritional deficiencies etc. I wanted to see how I could help people in poverty and those who were traumatised due to natural disasters such as tsunamis, and the impact of war. I saw people going to bed hungry and people digging garbage bins for food. I was interested to find solutions to see how people can live peacefully without having to rely on governmental agencies and institutions for support all the time.
I started gathering information. At the same time, I began gardening in the backyard of my kitchen, growing fresh and organic produce. All the while, there was a constant inkling pushing me to help others start their own home garden to fight food insecurity. I had a realisation that we can live a self-reliant lifestyle if we only learn to build our own homes and grow our own food. This is how I got the idea for Eshkol Agro Solutions.
MB: What is the problem you are trying to solve?
BW: I previously worked with other farmers through groups and networks in Sri Lanka on organic agriculture and supporting transitions to organic. From then on, I knew the only way to create a movement to tackle food insecurity challenges as an individual was to create a model in which everyone could see how it's done.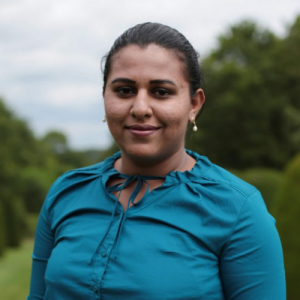 Bhagya Wijayawardane, Founder and Managing Director, Eshkol Agro Solutions
MB: What is your biggest challenge right now?
BW: There are increasing pressures from climate change, soil erosion and biodiversity loss, alongside farmers reluctance to move from chemical pesticides to organic compost and fertilisers.
MB: What is your vision for the future of your business?
BW: To care for the soil and promote plant, animal, and human health. Impart knowledge and technology to enable humans to find better ways of healthy living through state-of-the art agricultural practices while achieving financial success with utmost efficiency.
MB: What is your advice to other leaders who want to combine profit and purpose?
BW: Telling captivating stories and backing them up with authentic giving is one of the best ways to get consumers to love your brand and follow your work. You should learn to speak to customers in a way that traditional brands can't, which will always be a competitive advantage. You should aim for long-term prosperity instead of quick revenue hits as a growth-at-all-cost mindset is reckless and unsustainable.
________
Quickfire Questions
MB – What's the best piece of advice you ever received?
BW – When you do good, you get the relevant support you need, so just keep doing what you are doing despite the challenges as people connect along the way who feel the same to support you.
MB – Who inspires you?
BW – My mother. She's a courageous woman who left her family when we were very young to move to another country to give us the best education and life we can possibly have. Although she didn't complete her higher education, she taught me everything that it takes to be a courageous and strong woman. She gave me the independence I needed which allowed me to learn and explore many things I possibly could not have learnt from books. Her way of handling problems and the way she faces adversity and deals with ambiguity is truly incredible.
MB – How do you define success?
BW – Success, in my eyes, will always be about making a difference in other people's lives. If I know that at the end of the day our organisation/my work has helped someone find a job or feed their family or turn their life around, then I sleep well at night.
MB – What is something you wish you were better at?
BW – Achieving a healthy work-life balance
MB – What is the one book everyone should read?
BW – "The Power of Now" by Eckhart Tolle took me on an amazing spiritual journey to find my true and deepest self and reach the ultimate in personal growth and spirituality: the discovery of truth and light.
MB – What do you do to relax?
BW – Listen to soothing music, and work on small artistic and building projects in my backyard
________
Discover the other MB100 leaders recognised for their work combining profit and purpose to help achieve the United Nations Sustainable Development Goals in 2020, here.