Meaningful Business (MB): Please tell us a bit about Youth Run Nola and your role?
Denali Lander (DL): Youth Run NOLA creates opportunities for young people in our area (in-and-around New Orleans, Louisiana, USA) to develop healthier habits and build a more interconnected community through distance running. I am the Executive Director, and was part of the founding team of teachers who began walking and running with our students, in a very grassroots way, after school about ten years ago.
About 80% of the young runners (aged 8-20) in Youth Run NOLA are Black or Latinx, and we believe in democratising running, making running safe and inclusive space for all, and the power of young people in catalysing community health change and demanding greater health equity.
MB: When Covid-19 hit, what were the first few months like at Youth Run Nola? How did you cope?
DL: Youth Run NOLA thrives on community building and running side by side, most often in groups of 500+ at local road races. When the pandemic hit, our team was deeply concerned about the youth and families in our programme. While we were certainly missing our end-of-season running events that had to be cancelled in March and April 2020, we were immediately aware that the pandemic would be disproportionately impacting the health and financial wellbeing of the families in our programme.
We launched virtual warm-ups and workouts immediately in April and presented a mileage challenge called 'Movin' Through May' to keep our runners as active and connected as possible. We also launched a Family Support Fund to get direct financial support to those undergoing great financial hardship in June 2020. Our team turned to Zoom to stay as connected as possible, and we did several rounds of phone calls to hundreds of families throughout the summer to hear people's voices and learn how we could help.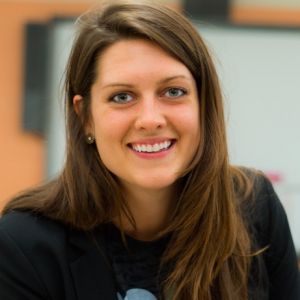 Denali Lander, Executive Director, Youth Run NOLA
MB: You received support from the Sport for Good Response Fund. Why did you apply and what did you receive?
DL: Amidst COVID and the side-by-side pandemic of systemic racism, we started having existential conversations at Youth Run NOLA about who we are, what we believe in, how we support youth power and change agency. The Sport for Good Response Fund came at the ideal time.
We had just developed a Family Support Fund for the first time, we knew we were preparing for a school year of programming that would look far different than the previous ten, and we were really eager to do a deep examination of our organisation's values and alignment to racial and health equity. We received a full strategic planning and mission/values re-examination from thinkBeyond that helped our team talk through our evolving identity through months-long supportive and powerful coaching and facilitation.
MB: Has Covid-19 changed your perspective and/or work around sport for social impact? If so, how?
DL: COVID has helped us learn about the value of small, grassroots, neighbourhood-based teams of runners who are led by our alumni as coaches. We were not able to integrate community members as volunteers into our programme this year as we usually do, and of course we were only bringing together groups of 10-50 (depending on the COVID regulations of the time) for distanced and masked running. So we learned a lot about sustaining a grassroots feel, trusting youth as leaders, and bringing running even closer to where youth already are in their neighbourhoods. We also certainly learned a bit more about how technology can, at times, support accessibility and bring our youth and families together in new ways we'd never considered.
MB: What challenges and/or opportunities do you expect to happen during the U.S. opening more and the rolling out of vaccinations?
DL: We are eager to get our school programme back up and active. There were hundreds of kids we were unable to work alongside with this year. We see great opportunity in providing programming to hundreds of kids who may have been without meaningful teams and in-person connection with peers this past year, and we're really excited about that.
We know there will be some bumps as we work alongside schools as they navigate the evolving landscape of re-opening, and similarly, it's still unclear what will be happening with local road races, but we are excited to be able to work safely with more kids and be more active in the ongoing work toward health equity.
___
to join the 'Game on' working group, alongside other leaders committed to delivering social impact through sport, apply to become a member of meaningful business here.